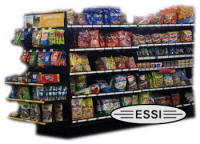 Gondola Shelving is available in either double sided sections designed to stand in the middle of a store or single sided sections designed to sit flush up against a wall. Sections are available in either 3 or 4 foot sections to create the aisle length needed.
---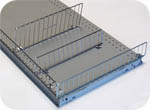 Create the shelf binning system with either 6" high or 3" high dividers and fencing you desire for candy, chips, and soft drinks.
---

-

Potato Chip Displays available for either a Convenience Store counter or free standing island type floor displays for small and large bags of chips standing as high as 53". Perfect Convenience Store Displays.
---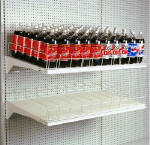 2 Liter Soda Bottles displayed on what is known as a Madix Gravity Feed shelving system compatible with either Madix or Lozier Gondola shelving systems.
---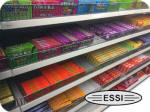 Easily assembled with a standard gondola upper shelf sitting a a 15 degree down slope with 3" high front shelf fence.
---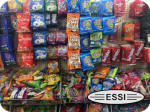 Hang bagges goods on the top with our standard pegboard hooks that insert into any gondola pegboard back and create a binning system opn the bottom with a standard gondla shelf and a 6" high binning system.
---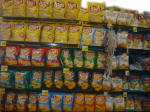 Assembles with a standard gondola shelf sitting in a flat position with our standard 3" high front fence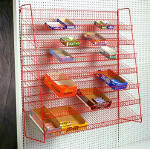 Candy Displays available for gondola store shelving and free standing countertop Candy Racks and Displays.
---
DVD Display Racks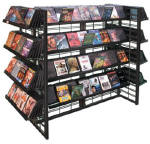 CD DVD Displays are the lightweight alternative for merchandising movie DVDs, music and, software CDs for rental and retail sales
---

All types of product display hooks, slatwall hooks & shelf brackets, gridwall hooks, waterfall displayers, adjustable knife brackets, tube brackets, waterfall hangers and a whole lot more. click here
---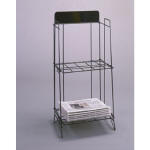 Affordable Free Standing Newspaper Racks for Tabloids, Magazines, and more.
E System Sales, Inc. is one of the nations largest providers of Convenience Store Displays with all types of merchandisers and displays for the most likely displayed item in any Convenience Store all across the entire United States and Canada with affordable rates.