A standard Convenience Store will typically use a double sided aisle of gondola shelving anyhere from 8' long to an aisle that can be long as 16' long or longer. Heights range from 54" high to as high as 72" in the larger stores. As shown in the picture above an end cap is place at the end of each double sided aisle of shelving maximizing the merchandising space available.
Request a quote for Convenience Store Shelving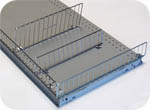 Create the shelf binning system with either 6" high or 3" high dividers and fencing you desire for candy, chips, and soft drinks.
---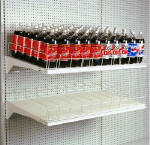 2 Liter Soda Bottles displayed on what is known as a Madix Gravity Feed shelving system compatible with either Madix or Lozier Gondola shelving systems.
---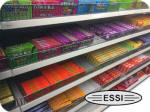 Easily assembled with a standard gondola upper shelf sitting a a 15 degree down slope with 3" high front shelf fence to contain the boxed candy on the shelf.
---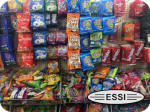 Hang bagged goods on the top with our standard pegboard hooks that insert into any gondola pegboard back and create a binning system on the bottom shelves with a standard gondola shelf and a 6" high wire shelf binning system.
---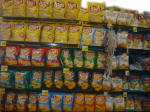 Assembles with a standard gondola shelf sitting in a flat position with our standard 3" high front fence.
---
This same type of shelving is also compatible with a Liquor Store application. Heights range from 72" high on upto as high as 120" high.